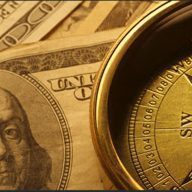 QUICK TAKES:
Can Powell save the world with his noon talk?   Not sure we will get the clues we need until after that time window.  Need 4402 to come out on S & P cash to be aggressive on the buy side and bottom-fishers have to wait for at least 4280 on S & P cash if not lower to 4260 and NQ 14840 on futures would look better.
We had come into this week thinking that Friday was the best day for a rally and we do like next week but it's hard to imagine any immediate end to the Middle East mess will the market be willing to forget about it as they eventually did with Russia/Ukraine?   Today is very critical.  Given that our bias is for a down November and December, how much are you going to make if the market does climb the wall of worry?  Maybe 4456 or 4550 on the S & P cash max?
Tesla already hit 222 and it is like GM these days in terms of predicting the future of the economy and not sure Netflix can save the world.
For now, we still like metals and energy on dips but UNG and nat gas look weak next week. Defense stocks like XAR and PPA are always an option and PPA looks better as you can buy more shares at a cheaper price and it has had a lower drawdown lately.
Still sour on Bitcoin and not bottom-fishing TLT until at least 81.20 and will we see 7500 before it's done?  Ugh.
Home Builders (XHB) look terrible with higher rates and Tesla will no longer save XLY.
So best buys of course will be PPA and metals and energy and we may consider tech if it does not fall apart today and watch XLK and MGK as a haven for  short-term plays for a nice move into next week.
We are at a time window where this market could unravel with the Anniversary of the 1987 crash today and some similar patterns in the cycles but we are looking for a trigger. It seems that the upside reward is not great unless you play the right markets we have suggested.
Stay on top of the stock market and our ETF picks with  daily analysis with the Fortucast Financial Timer or Fortucast ETF timer.  One-month trials start at 97.00. 
-Barry 
Subscribe to our financial market reports today at https://fortucast.com/market-reports/financial#plans 
---
For short-term traders and moderately active swing futures traders. Markets covered: S&P 500 T-notes Dollar Euro Gold Silver Crude Oil Bitcoin Futures.
CLICK HERE TO SEE ALL OUR BLOGS AND SCROLL TO THE BOTTOM OF THE BLOG PAGE TO SUBSCRIBE TO https://commoditytimers.com/blog/OUR FREE BLOGS:
https://commoditytimers.com/blog/